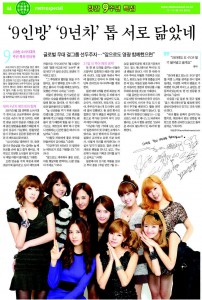 '9 Members', '9th Year', the Ones on Top Are Similar to Each Other
9 people with 9 colors, Girls' Generation's congratulatory ninth anniversary interview
Girls' Generation sent congratulatory messages of nine different colors (styles) for Metro Newspaper's ninth anniversary. Within four years of debuting, they have gone from being acknowledged by everybody as the nation's representative girl group to becoming Asia's top female group. They are very similar to Metro Seoul in that they are very active on a global scale and that they have secured their place as front-runners. The nine girls all said that they hope to share their joyous moments with Metro, which was with them when they started their careers.
Metro and the girls who are in their 4th year after debuting
It hasn't been quite four years since their debut performance on a show on August 2nd, 2007. However, their success was made possible thanks to their sweat and hard work during their training period, which averaged five years. During that difficult period, their most dependable companion was Metro Newspaper.
"Before I debuted as a Girls' Generation member, I always had Metro in my hands and enjoyed reading it while going to my school or practice room. Every morning was entertaining because there were fun and varied news reports." (Taeyeon)
When their long training period was over and the countdown to their debut had begun, Metro wrote the first article about them (page 34 of the July 18, 2007 issue, titled "9 Female Ulzzang [literally 'best face'] High School Students, 'Female SuJu' Unveiled"). They still vividly remember when that article was published.
"I can't forget the sense of pride and nervousness I felt. I remember that the members were so happy that they weren't even able to correctly read the article." (Sooyoung)
They believe that the key factor behind their popularity is the fact that they have clearly shown their growth to their fans. They said that this, too, is something that they have in common with Metro.
"We always contemplate about new concepts so that we're able to give off a fresh feeling. We're able to stay strong because there are fans that like and look forward to our transformations. Likewise, I think that Metro's charm is its ever-changing, fresh, young energy." (Yuri)
"Thank you for creating a good memory for us." (Hyoyeon)
"I hope Metro will grow even more than it has during these past 9 years." (Tiffany)
"Please continue publishing good newspapers that sparkle like the morning sunlight." (Sunny)
Japanese tour (starting May) 31st, attacking foreign markets
They are dreaming of taking another leap forward and are going to start their focused attacks on foreign markets on the 31st. They start their Japanese Arena Tour on the 31st and then they will hold their second Seoul concert and Asia tour right after.
Eight months after their Japanese debut, they are holding their first arena tour. With two additional concerts being added, they will have fourteen concerts in six cities and will be performing until July 18th. They will be performing in Tokyo, Osaka, Saitama, Hiroshima, Nagoya, and Fukuoka. Half of the concerts were added due to fans' explosive demands and the 150,000 seats are certain to sell out.
"The most memorable moment last year was our showcase, which was our first Japanese performance. I had the strange feeling of excitement mixed with the fear of being in a foreign country and I could not believe that we were so welcomed. I want to meet a lot of new fans in various areas and I want to leave new stories and meanings wherever I go." (Seohyun)
On July 23rd and 24th, one week after spending a warm summer in Japan and ending their Japanese tour, they will meet Korean fans through their "2011 Girls' Generation Tour" at Olympic Park's Gymnastics Gymnasium. During their previous Asia tour, they showed their outstanding singing and performance skills, as well as their ability to come up with high-caliber performances. On top of this, their teamwork will be polished to perfection after their Japanese Arena Tour. People are looking forward to them showing all of these qualities on the stage in Seoul.
The Seoul concert is the start of their Asia tour, which will continue in Taipei, Taiwan, and Nanjing, China, with additional concerts expected to be added in major Asian cities. Their activities aren't limited to Asia though. On June 10th and 11th, a month before they will be in the middle of their busy Japanese tour, they will take part in the "SMTOWN Live World Tour in Paris" with other agency artists at Le Zenith de Paris.
"I'm already excited just thinking about personally experiencing the K-Pop fever that is going on in Paris. Last year's LA, USA concert with fans of many different nationalities was moving, and I think I will be moved once again." (Yoona)
They will release their first Japanese album "Japan 1st Album–Girls' Generation" on (June 1st) and increase their popularity in the Japanese music industry.
"Our break between Korean promotions has increased, but we will use the experiences gained overseas to come back more mature." (Jessica)
(TL note: The text above the members' signatures says, "Metro, congratulations on your 9th anniversary!!")
Reporter: Yoo Soonho
Source: Sosiz
Translated by: jreddevil07@soshified.com
Edited by: residentbenchwarmer@soshified.com
Have a news item that you think Soshified should know about? E-mail us at tip@soshified.com.
Follow us on Twitter: http://twitter.com/soshified for the latest on Girls' Generation.