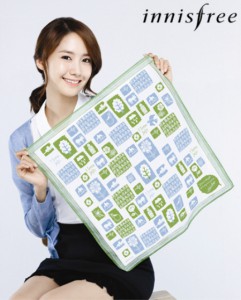 Girls' Generation's Yoona is currently modeling for natural cosmetics brand Innisfree and is working on a concept called "Yoona's Jeju Handkerchief". This is part of Innisfree's Eco Handkerchief campaign.
Following up last year's activities, this is the second Eco Handkerchief campaign. Yoona admitted her love for Jeju afterwards, "Through this campaign, I unknowingly fell in love with Jeju Island's beauty. It's so clean and beautiful that I felt really proud of my country, especially when looking at other places while performing overseas."
Actions speak louder than words. Regarding the campaign, Yoona commented, "I'll start of this campaign by using handkerchiefs instead of tissues. I hope that everybody can join and participate in this campaign so we can keep our nature clean and beautiful."
Throughout June, Innisfree customers who spend more than 10,000 won will receive Eco handkerchiefs autographed by Yoona.
Innisfree's best products "The Green Tea Seed Serum" and "Green Tea Mineral Mist" will be released as limited special editions along with the Eco handkerchiefs that hold Yoona's kind heart.
The limited edition "The Green Tea Seed Serum" will be available for purchase as a 160 ml bottle, containing double the amount compared to the original 80 ml.
As of June 1, 10% of the sales from the limited edition items will be donated for Jeju Olle Road. Purchasing the items alone would be healthy for the customers' skin and will also help clearing up the earth's surface by decreasing the amount of trash.
Source: Nate
Translated by: ch0sshi@soshified.com
Written by: spiceshoe@soshified.com
Have a news item that you think Soshified should know about? E-mail us at tip@soshified.com.
Follow us on Twitter: http://twitter.com/soshified for the latest on Girls' Generation.