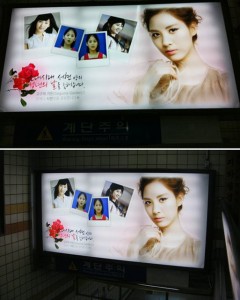 May 16th marks the arrival of the Coming-of-Age day, also known as the day for a young person to move on from their adolescence and into adulthood.
Girls' Generation's Seohyun is one of the many who has officially turned into an adult. To celebrate this transition, a billboard with pictures of Seohyun has been installed at the "Seohyeon Station" at Bundang. DC Inside's "We Got Married" gallery, or also known as fans of the YongSeo couple, decided on the Billboard idea and attached it since May 15th to celebrate Seohyun's adulthood.
A short congratulatory message and a number of Seohyun's pictures were chosen. This included Seohyun's SM Entertainment audition pictures, her debut pictures as well as a recent picture. A fan explained, "With permission from the photographer in charge of Girls' Generation's Marie Claire photoshoot as well as from SM Entertainment, the billboard was installed."
A picture of the board was circulated around twitter and many are taking an interest in visiting the subway station. One commented, "There's a Seohyun board at Seohyeon station? I better go see for myself."
On another note, on the most recent episode of SBS's "Running Man" which aired on May 15th, the "Seohyun Station" was featured as the "Girls' Generation station in Bundang".
What do you think of Seohyun finally turning into an adult?
*Note: Seohyun and Seohyeon have the same Hangeul characters (서현), just romanised differently.
Sources: MT
Written by: shizzles9@soshified.com
Contributor: taengbear@soshified.com
Have a news item that you think Soshified should know about? E-mail us at tip@soshified.com.
Follow us on Twitter: http://twitter.com/soshified for the latest on Girls' Generation.