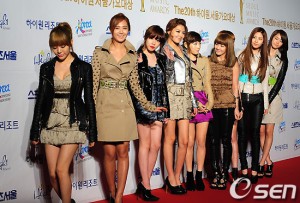 More than 300 fans held a flash mob at the Louvre Museum in Paris, urging for an extension of the sold-out 'SMTown Live World Tour in Paris'. The star-studded concert featuring artists from SM Entertainment is to be held on June 10th, and many are requesting for an extension of the one-day event.
On April 26th, ticket sales for the concert started and were deemed sold out within only 15 minutes. Many fans of groups like Girls' Generation, TVXQ, Super Junior, Shinee and f(x) were not able to secure a place in the concert hall, causing them to move into action.
Here's a clip of the flash mob:

It was later reported that SM Entertainment is in the midst of considering an additional show, but needs to take into account other factors first before making a final decision.
In other news, as of 9.10AM on May 2nd, SM Entertainment's stock prices rose by 3.36% on the KOSDAQ market. This is most likely due to the sold out 'SMTown Live World Tour in Paris' concert to be held next month.
Written by: shizzles9@soshified.com
Source: Nate 1, 2, OrientExtreme@youtube
Have a news item that you think Soshified should know about? E-mail us at tip@soshified.com.
Follow us on Twitter: http://twitter.com/soshified for the latest on Girls' Generation.