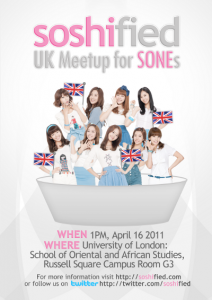 One of Soshified's main goals was to bring SONEs from all over the world together and unite as one international fandom of So Nyuh Shi Dae/Girls' Generation. Many amazing fanmeets have been hosted by Soshified in order to give the SONEs the chance to do just this, such as the ones held in Seoul and LA. And now, Soshified is currently working to bring you a meetup on the other side of the world – England!
On Saturday April 16th, Soshified will be holding the first meetup to happen in the United Kingdom! From 1pm, SONEs will be meeting at the University of London: School of Oriental and African Studies, Russell Square Campus Room G3 to meet and interact with other SONEs, and will have the opportunity to take part in many activities, not to mention SoShi-related games!
During the meetup, there will be a lot of chances to get your hands on some lovely SoShi goodies – competitions such as SoShi trivia and SoShi bingo will be held! SONEs will also get the chance to brush up on their fanchants with Soshified's special Fanchant subbed videos! There will also be screenings of new [and old!] SoShi Subs videos and So Nyuh Shi Dae's Ariake Colosseum Japanese Showcase DVD, and a special chance for SONEs to participate in Soshified's 4th Anniversary Celebration for our girls!
For more details, you can get in touch with me via PM or through Twitter @ssfsesame
If you're going to attend, please post below! The UK Meetup Team looks forward to seeing you there! Make sure to drop a visit in the UK Soshified Thread as well if you can't make the meetup but wanna meet fellow UK SONEs in the area!
Big thanks to tishos (L) for the terrific poster! This event is open to all fans of Girls' Generation free of admission! We encourage everyone to have a good time and bring star cards as well as other Girls' Generation fan memorabilia to spice up the meetup a bit!
[I also want to write a huge personal thankyou to the team that is working really hard to make this meetup possible! The Soshified members Soy, oniontaker, gracehpq, Monty0hm, SooGoo and Sleno have all been huge helps in contacting venues and accommodation, planning what's going to happen at the meetup and dealing with everything you can think of. Thankyou so much for putting all of your hard work and effort into making this possible!]
If you would like to make a donation to the event please check here: http://bit.ly/gy8qm4