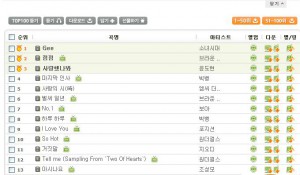 In the 2000's, the Korean music industry has replaced the ballad genre that was so dominating since the 1980's with idol groups who focus on dance music. Girl groups like Wonder Girls, Kara, 2ne1 and boy groups like Big Bang and 2PM have all become the strongest influences in the mainstream music industry. In the end, the song of the decade of the 2000's was 'Gee' by Girls' Generation.
The accomplishment of being named song of the decade is made even more impressive by the fact that 'Gee' was released at the end of the decade in 2009. With a record-setting nine consecutive wins on Music Bank, 'Gee' left an impressive impact that solidified Girls' Generation's status as the dominating force in the Korean music industry.
Making a stand in the midst of the trend of idol groups and girl groups are "Pure Talent" singers. Korea's representative R&B icons, Brown Eyes, managed to place as a dark-horse second in the chart with the song 'Little by Little'. Ballad, rock and other genres have also been significant in the Korean music industry. The past decade has drawn a distinct line between music "to be seen" and music "to be heard".
However, the decade's most attractive genre were idol groups and girl groups who were born at the heart of dance music. Their influence has grown to the point where their activities are considered to be at the center of South Korea's pop culture. Girls' Generation, Wonder Girls, Kara, Big Bang, Super Junior, 2PM, 2AM, SHINee and other idol groups' busy activities close out this decade with a dominating presence.
After ending the decade as one of Korea's top musical groups, Girls' Generation will now attempt to leave the same powerful impression on Japan. With the recent release of 'MR. TAXI' and the prospect of a full Japanese concert tour, the girls appear to be off to a good start in working towards that goal.
Source: MelOn [Parts of source article not related to Girls' Generation were omitted]
Translated by: oniontaker@soshified.com
Written by: michaelroni@soshified.com
Have a news item that you think Soshified should know about? E-mail us at tip@soshified.com.
Follow us on Twitter: http://twitter.com/soshified for the latest on Girls' Generation.