On Saturday April 16th, a piece of Soshified history was made in London. This piece of history was of course the first Soshified United Kingdom Meetup.
The meet-up was scheduled to start at 1:00 PM but due to some logistical and technical issues it finally started at 1:30. This allowed stragglers to actually make the event on time. The event started off with the Soshified 'Around the World' video being shown on an overhead projector.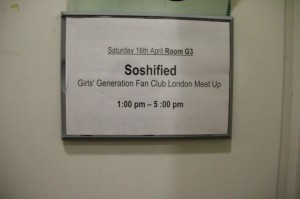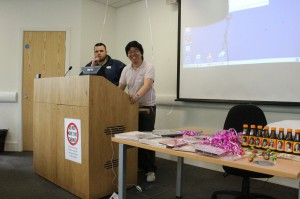 Several fan chant videos were shown as well allowing SONEs to chant to their hearts' content. The event even had its own screaming Sooyoung fan, which made everyone laugh. The audience was then asked if they had watched 'Girls Go to School', and surprisingly only a few had seen it, so episodes one and two were then shown to everybody.
After the videos, competitions were held in which people could win a veritable array of SoShi goodies including bottles of Vita500 featuring the Girls' Generation members, copies of Girls' Generation's albums, calendars, and even photobooks.
The first competition was human bingo. This activity allowed everyone to get on their feet and mingle with one another, letting everybody get to know each other. Once the winners had been announced, they came up and chose the prizes they wanted.
Next was the raffle where upon entry everyone had a number placed on the back of the hand and after a number was generated randomly the winner was able to choose the desired prize.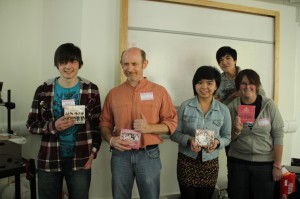 The main competition was a pub quiz, and featured a Girls' Generation Tokyo photobook as the prize for first place and two Phuket photobooks as prizes for second and third places. Other competitors were able to win gifts as well. Questions were put up on the projector and the room went quiet, just like it would during an exam.
Once the quiz was over, answers were marked and the winner was announced. She collected her Tokyo photobook in shock, having a hard time believing that she had actually won first place in the quiz.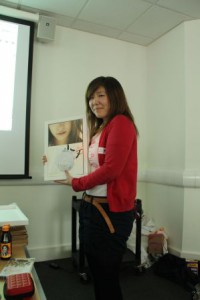 The meet-up, which was attended by more than fifty people, concluded after the other prizes were handed out to the runners-up. Everybody who attended had fun and made new friends. Of course, no one was able to leave before the required group photo was taken.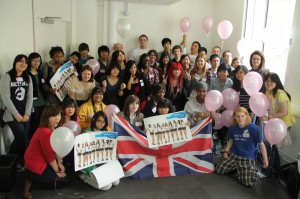 After the meet-up some of the participants went to a Korean barbecue restaurant where everybody got to know each other more over as much meat and beverages as possible that could be consumed. The diners were not the only ones who enjoyed the meal. The Korean staff at the restaurant were very surprised when they were asked if an external hard drive could be hooked up to the stereo system to play Girls' Generation songs. It was a great cap to a brilliant night.
Everybody did not part ways after that though. Sunday was dedicated to the Intel Visual Dreams project with people running around London taking pictures of the girls' Intel posters being held at famous landmarks. This was again a lot of fun with many risking life and limb to get the best shots.
A big thank you goes out to everybody who came to the meet-up from all of the organizers: Han, Molly, Grace, Onion, Sam, Soy, and Paul, because the participants made this event a day to be remembered by all.
Written by: SooGoo@soshified.com
Edited by: residentbenchwarmer@soshified.com
Have a news item that you think Soshified should know about? E-mail us at tip@soshified.com.
Follow us on Twitter: http://twitter.com/soshified for the latest on Girls' Generation.