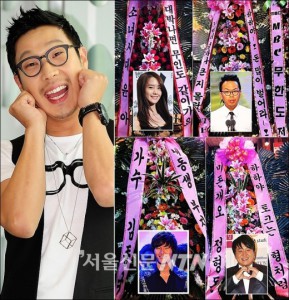 Entertainer HaHa officially opened his restaurant business, and many celebrities showed their close relationship by sending wreaths to congratulate him.
HaHa opened a grilled pork intestines shop with great interior design near Hongik University on April 22nd. On the first day, he transformed into a worker and served food directly to the tables and communicated with the guests, creating a bright atmosphere as a sandwich CEO Jimmy John.
He met with reporters and said that he had a hunch the store would be a success with the number of guests lining up till dawn the next day.
The cast of entertainment programs like MBC's 'Infinity Challenge' and SBS's 'Running Man' sent wreaths to congratulate him, attracting the attention of guests.
Girls' Generation's Yoona is also creating attention with her message to HaHa, in which she cheekily said, "Let's go to a deserted island if your shop is daebak!"
Kim Taeho PD showed his loyalty with his message, "I had no idea how big 3 billion was. Haha, earn a lot of money!" Kim Jongkook's message was, "Be rich, my brother!" while Jung Hyungdon drew laughter from customers as his said, "Haha, talk like me".
In this regard, HaHa's manager stated that, "Before the opening day, many friends and colleagues gave him support and cheered him on, and guests who have visited the shop directly are enjoying the wreaths placed there."
Yoona and HaHa previously showed their close friendship through the recent appearance of Yoona (with Sunny) on SBS's Running Man. After the episode, HaHa tweeted and posted a picture of himself posing comfortably with Yoona. Hopefully, we'll be able to see Yoona and the members visiting HaHa's store themselves!
Written by: shizzles9@soshified.com
Source: Nate
Have a news item that you think Soshified should know about? E-mail us at tip@soshified.com.
Follow us on Twitter: http://twitter.com/soshified for the latest on Girls' Generation.