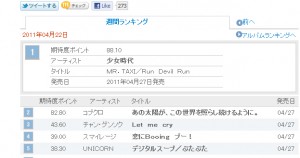 On the day that a snippet of the 'MR.TAXI' music video was released, SONEs have more good news to look forward to. On the Oricon Ninki Chart, users have predicted a #1 for Girls' Generation's third Japanese single!
As the Oricon Ninki Chart is a pre-release rating system, based on the results of a user poll conducted by Oricon, the girls' ranking of 88.10 indicate that there is a strong public interest in their new single. Despite being expected to top the Oricon daily chart on the day of release, they will still face tough competition for the top weekly spot from Kobukuro, a well established Japanese group that debuted a decade ago.
How do you think the girls will do when the actual release date of 'MR.TAXI' comes along?
Written by: JeremyJay22@soshified.com
Source: Oricon
Have a news item that you think Soshified should know about? E-mail us at tip@soshified.com.
Follow us on Twitter: http://twitter.com/soshified for the latest on Girls' Generation.