People from all over came together to celebrate Girls' Generation member Jessica's birthday in their own unique way today!
To start off, one of SNSD's many fancafes showed how much they cared about the Ice Princess by not only donating a large amount of money to a children's foundation under her name but also sponsoring a touching ad in a local newspaper: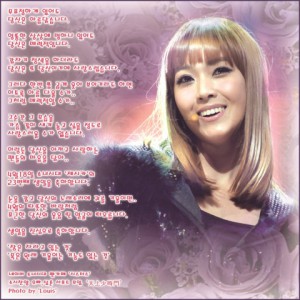 Even when she seems to have no expression,
she is beautiful.
Even when she looks zoned out with random thoughts,
she is charming.
Even if she suddenly gives a serious look,
she is loveable because it's her.
Then when she smiles graciously…
how could she be this beautiful…
how could she be this charming…
To the point where people want to greatly remember that moment,
she is that beautiful.
The gathering of the hearts of fans..
those who care and love this much..
On April 18th, we congratulate
SNSD's Jessica's on her 23rd birthday
If we close our eyes and listen carefully to her sing..
like a warm breeze in April,
A cozy looking face pops up in our mind.
We sincerely congratulate her today.
'Sleep is there to enjoy'
'Neck is there to have a function to tilt'
The generous Kwongdongpharm, the source responsible for sharing with us the vita500 pictures, videos, and all things Girls' Generation, made their own custom congratulatory picture for the Ice Princess: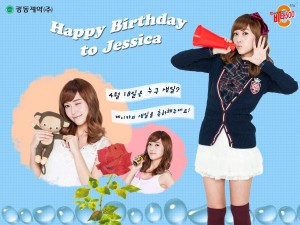 "April 18th is whose birthday? Please congratulate Jessica on her birthday!"
Showing her influence in not only Korea, but in Japan, Jessica had a congratulatory message from a Jpop artist as well, Makita Sako, from the group Passpo, went out of her way to congratulate Jessica through her twitter:


"Happy Birthday Jessica-sama."
Also, don't forget to check out Jessica's birthday thread here on Soshified, full of meaningful dedications: Here
Finally, read up on our "Resident Princess" in this birthday write-up by one of our own writers: Here
Written by: JeremyJay22@Soshified.com
Translated by: 오이사랑싴@soshified.com , doe@soshified.com
Source: kwongdongpharm@twitter, sakopasspo@twitter, Hankyung
Have a news item that you think Soshified should know about? E-mail us at tip@soshified.com.
Follow us on Twitter: http://twitter.com/soshified for the latest on Girls' Generation.