MBC 'We Got Married"s YongSeo couple will have their last episode on April 2nd. A number of fans have expressed their feelings through a heartfelt message published in the Korean Metro newspaper.
"Till the day Yonghwa's passion and Seohyun's dreams brighten up the world, I cheer you, CNBlue Jung Yonghwa, and Girls' Generation Seohyun's future.
Like beginning and end is together, they tie the knot tightly, and return to the end after a long journey. Because Yongseo couple thought of even the small connections preciously, we believe they'll show us their best in their own areas. We give support, claps, cheers, encouragement, trust and love. I hope it helps just like the wind flapping its wings towards the ultimate goal. We pray for Jung Yonghwa and Seohyun, who will twinkle like a star in the world."
A representative from the Metro newspaper commented that fans wanted to show their gratitude towards Yonghwa and Seohyun who have made them happy every Saturday for more than a year.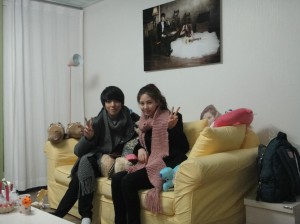 It truly has been a year since YongSeo's meeting on February 27th. The youngest couple on the variety program was forced to bid farewell due to their increasingly busy schedules. A new couple will take their place, joining current couple Nickhun and Victoria.
What do you think of the message left by the fans? What is your message to YongSeo?
Written by: shizzles9@soshified.com
Translated by: 오이사랑싴@soshified.com
Source: Newsen
Have a news item that you think Soshified should know about? E-mail us at tip@soshified.com.
Follow us on Twitter: http://twitter.com/soshified for the latest on Girls' Generation.