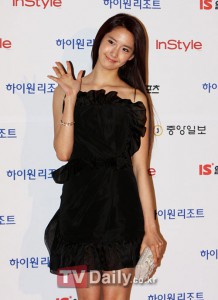 A former SM Entertainment trainee, Jang Ha-Jin, gave mention to Yoona in her autobiography, citing her experiences and observations of her fellow trainee.
She describes the young Yoona saying, "I remember the time when I first saw this unnie. I had my mouth wide open. She was really really pretty. At then, she was tall for a 13 year old, and looked like barbie doll because she had long arms and legs.", commenting on her small face, dimples and shining eyes.
After talking about Yoona's appearance, she also commented on her personality; "Yoona unnie was a more genuine person as I got to know her more. She was easy-going and kind, and didn't know how to talk badly behind their back. She also always conceded and took care of others. She laughs so well, that I never saw her fought with others or get mad for 3 years I've known her." and adding that she once thought to herself, "Is that unnie Buddha?".
Her praise for Yoona doesn't stop there, Jang going on to say that "She didn't have much greed and didn't want to stand out from her peers" and that "She had nice personality and talent." She finishes off saying that "she was very playful and very funny. Unlike her look, she acted like a guy, impersonated comedians, and did lots of wild pranks, making herself a mood maker. On the other hand, when she was alone, she had lots of deep thoughts. I think I liked that kind of unnie."
View full translation here.
Now a student at KAIST University in Korea, Jang's praise of Yoona's kind-hearedness and personality has caught the attention of many netizens who have commented "Yoona has the looks of a goddess and the character of the Buddha" and "I can't wait to read this book", among other positive comments.
Source: Yoona Gallery (via bestiz)
Translation: 오이사랑싴@soshified.com
Original article: Link
Written by: Procrastinatoress@soshified.com