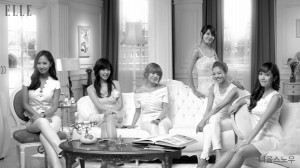 At the beginning of February of 2011, it was announced that Yuri, Sunny, Jessica, Tiffany, Hyoyeon, and Sooyoung of Girls' Generation had signed on to be models with the cosmetics company Dior. We've already seen them model with fashionable Dior bags, and a series of CFs and promotional images advertising Dior's makeup products were released yesterday. Dior showed off a CF featuring all 6 members as well as CFs with individual members, and now SoShi Subs has subbed all the CFs for your viewing pleasure!
Sunny's Dior CF acts an introduction to viewers, showing us pictures of Tiffany, Yuri, Jessica, and Sooyoung's elaborate videos.
During the group CF, the 6 members were shown sitting together in an elegant setting as they happily discussed the benefits of various Dior products with one another, with a little love and relationship talk thrown in. The entire CF was filmed in striking black and white, and the girls themselves looked equally striking as they were all dressed in white.
Jessica's individual CF displayed a "white like pearls" theme, as Jessica is seen wearing a beautiful pearl necklace in a snowy winter setting while the Dior UV Pearly White product was featured. She later discussed how the Pearly White product can help make skin look brighter and clearer.
High art and stunning beauty came together for Tiffany's Dior UV Shield Transparent CF. Tiffany sat in a bathtub while speaking on the phone to an unknown person. The CF had a silent film feel to it, as the only sound in the entire first half was the orchestral background music, with subtitles revealing the phone conversation to the audience.
Sooyoung's solo CF was an informative treasure, as she went through a full daily skin care and makeup application routine. The multiple close-up shots put Sooyoung's flawless skin on full display, as she discussed the benefits of each of the main Dior makeup products in the CFs.
Those with a passion for classical music and beautiful idols will fall in love with Yuri's CF. Our Black Pearl, in a white dress, is shown struggling with playing the cello, but by the end of the CF she is perfectly "playing" the cello background music heard in the other CFs along with an unknown piano accompanist.
[
Hyoyeon's video is the cherry on top of this deluge of new CFs, urging viewers to try DiorSnow UV samples in order to have diamond-like skin. Watch it for yourself to see Hyoyeon's awkward yet adorable charms.
————————————————————————————
In addition to the CFs, a set of promotional images of the girls were also released.
————————————————————————————
But the goodies don't end there! Want to hear the behind-the-scenes scoop about the Dior CF filming? Check it out here! Also, the 6 members modeling for Dior were interviewed for Elle Korean and Allure magazines, and you can read the translated scans here and here!
Written by: michaelroni@soshified.com
Credits: Dior, Elle Korea, ssfshortclips2@youtube.com, SoShi Styling
Contributors: residentbenchwarmer@soshified.com, soy@soshified.com, soshiluv9@soshified.com