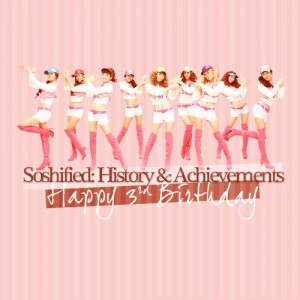 Soshified opened to the public on February 1, 2008 with the sole purpose of bringing fans together from all across the globe. Within the first three weeks, Soshified obtained 1,000 registered members, and by the end of the month, Soshi Subs released 33 English translated videos.
In May that same year, Soshified held its first fan meet-up and organized its first major gift package in correspondence with the 6th Korean Music Festival hosted by Korea Times. Soshified members gathered to cheer together for the first time with approximately fifty members in attendance. Necklaces, clothes, and other gifts were given to the girls before the concert and they were seen wearing Soshified's gifts not long after they were given, surprising many international fans.
Throughout the rest of the year, the number of members slowly increased. Birthday, anniversary, and special occasion packages were organized and successfully delivered with the help of Korean fans. Soshi Subs continued to deliver high quality English subtitles, reaching out to many international fans with its fast and widely spread videos. Soshified was also publicly recognized by Arirang's popular radio DJs Isak and Young and even Taeyeon. There were also a few times when one of the girls logged onto Soshified and chatted with members.

Soshified's 1st Anniversary Timeline
When Girls' Generation shook all of Asia with Gee and Genie in 2009, Soshified also made great leaps. From radio sessions to top-notch layouts, Soshified grew into a community known for being the leader in Korean pop fansites. Soshified became widely known among the international Korean pop fans as having the best quality subtitles and website. Alex Woo, a jewelry brand loved by all, even featured Soshified in their July newsletter. Soshified also started receiving Korean media attention, first for the fan support at the 7th Korean Music Festival and later for their famous charity projects.
Hoping to spread the love across the globe, Soshified began working on charity projects in 2009. Working with Korean fans, Soshified began its first charity project for Tiffany's birthday. Even though it was the first charity Soshified ever participated in, members managed to donate $2,000 to the Hansarang Baby Care Center for Disabled Babies in Gyeonggi-do Gwangju under Tiffany's name. For Hyoyeon's birthday, $3,200 was donated to "The House that Opens Tomorrow" food market in Hyoyeon's hometown, Incheon. For Yuri's birthday, $3,200 was donated to YMCA's Youth Center in Seoul. Soshified even worked with Goobne and Korean fans in order to help feed children coming from low-income families. In 2009, a total of $8,400 was donated to charity by international fans.

Soshified's 2nd Anniversary
In 2010, Soshified began to play a bigger role internationally. Rather than limiting donations to Korea, Soshified started to spread the love beyond South Korea. When Haiti was hit with the devastating earthquake, Soshified held a relief fund in the name of Soshified and Sooyoung. Members managed to raise $3,500 for Red Cross within a month. For Girls' Generation's 3rd anniversary, Soshified donated $5,680 to charity: water, a non-profit organization that helps bring in clean drinking water to people in developing nations. With that amount, Soshified members were able to provide 284 people with clean water. During the Christmas season, Soshified donated $1,400 to Make-a-Wish Foundation, helping grant the wishes of children with life-threatening medical conditions in over 36 countries. In 2010, Soshified donated a total of $10,580 to international charities. Seeing the big hearts of Girls' Generation, international fans made it top priority to spread the love around the world.
One of the biggest highlights of 2010 was the Soshified Meet-Up in Los Angeles that was held in correspondence with the SM Town Concert. The meet-up was primarily for distributing Girls' Generation support items to Soshified members to be used during the concert, but there were plenty of games, activities, and prizes. Compared to the double digit attendance for the Korean Music Festival in 2008, over a thousand international fans attended the meet-up. Fans traveled all across the United States to see the girls: California, Washington, New York, Texas, Massachusetts, Florida, Tennessee, Georgia, and more. There were also a handful of fans from out of the country too: Canada, Mexico, Australia, England, and Singapore. Coverage of the meet-up was featured in Korean media, surprising many Korean fans. Although they were already amazed with international fans because of Soshified's "SONEs Around the World" fanvideo, they were still shocked at the amount of support the girls received in Los Angeles.

Soshified's "SONEs Around the World" fanvideo, made for SNSD's 3rd Anniversary.
The meet-up in Los Angeles helped pave the way for more international activities. At the start of 2011, SM Entertainment USA and Soshified worked together to host a meet-up in Los Angeles. The meet-up once again exceeded expectations as over 500 people showed up even though the maximum capacity of the theater is 280. Korean newspapers, both in Los Angeles and South Korea, were quick to cover the event. Soshified is the first international fansite for a Korean pop idol to be publicly recognized by the entertainment company and media.
Here's a quick wrap up of Soshified's history & achievements!
2008 – 9 Girls, 1 Generation
Soshified opened to the public
First meet-up held for the 6th Korean Music Festival in Los Angeles
Taeyeon mentioned Soshified in a letter to SONEs
2009 – We're Nothing Without Nine
Began the year with 14,000 members
Second meet-up held for the 7th Korean Music Festival in Los Angeles
Alex Woo mentioned Soshified in their July newsletter
Donated $8,400 to charity
2010 – Forever9
Began the year with 59,000 members
Captured attention of Korean netizens with "SONEs Around the World" fanvideo
Third meet-up held for the SM Town in Los Angeles Concert
Donated $10,580 to charity
2011 – Global Generation
Began the year with 140,000 members
Fourth meet-up in Los Angeles sponsored by SM Entertainment
Fifth meet-up in Seoul
Gift Totals: Ever since May 2008, did you know that the girls have publicly used our gifts 734 times? And that doesn't even include gifts they may have used behind the scene!
Soshified Charities: Soshified started donating to charity for Tiffany's birthday in 2009. Ever since, Soshified has donated $18980 to charities all over the world!
SNSD Knows About Soshified: Can you believe that the girls have publicly logged onto Soshified 13 times? Tiffany gave Soshified a shoutout twice on air, and Taeyeon even specifically mentioned Soshified in her 1st anniversary letter!
Soshified Projects: Can you believe that Soshified really had THAT many projects ever since 2008? The 1st Anniversary project holds very dear memories for all of Soshified. Nothing beats the girls using our inflatable pool! The 2nd Anniversary Pop-Up Message Book was seriously the best. The Chunji Care Package did not disappoint, and we certainly can't forget about the Chinchin Comeback Special!

Happy 3rd Anniversary, Soshified!
It's already 2011, and we have come THAT far.
Year after year, Soshified keeps getting better, don't you think so? Don't forget to check out these links and spread the love!

Brazil Flood Relief
Vote for Soshified at the Shorty Awards
Written by Ghost
Edited by d1ana, Icarus, Soy, Jerzideva