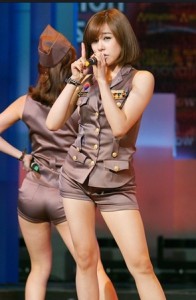 Tiffany was recently chosen as the official idol league site Korea Top Face's 'Top Idol Of 2011' from the '2011 January Premier League'.
Nowadays, 'trend=IU' has been spreading like wildfire, but what the actual trendy idol netizens think of is different.
One person that runs Korea Top Face league explained this by saying, "Korea Top Face League is run with a 5-part minor league. The votes are taken through phone or internet picks, and each person is limited to one vote under that specific IP address, allowing people to see a direct reflection of the votes."
The results of the January Premier League were Tiffany in the first division, Yoona in the second, Hyoyeon in third, Victoria in fourth, and Yang Yoseob in the fifth division.
When it comes to the winner of the premier league, Tiffany, she was in the running for first against Taeyeon, who seemed to have secured her top position. Tiffany's mini skirt worn at the past Seoul Music Awards, and her live duet of the 'Secret Garden' OST 'Here I Am', with Sunny on a radio program helped her jump to the top, earning her the nickname as the first 'top idol of 2011'.
The second league has added Jessica, Yoona, and Sunye, having 7 SNSD members, 4 Wonder Girls members, Park Jaebum, 2 SHINee members, 1 2PM member, and 1 Super Junior member. This league has been garnering attention as it seems it was composed to be a battle between SM and JYP.
Translated by: ch0sshi @soshified.com
Credit to: jbnews.com
Original article: LINK