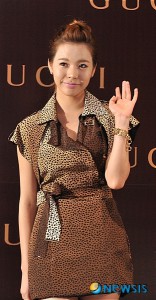 [Seoul=Newsis] Sunny and Her Sisters Are 1 in 130,000?
For the families of Pam Vanwell (35), who live in United Kingdom's South Wale's Burry Port, their special day is the September 5th. It is because three of their kids, Jack (9), Alicia (7), and Miley (1), share the same birthday. It is known to be true that there is a 1 in 133,000 chance for three sisters and brothers to be born on the same day.
For the families of Sunny (22·Lee Soonkyu), their special day is May 15th. Including herself, her oldest sister, Eunkyu, who is 15 years older than her, and her second sister, Jinkyu, who is 10 years older than her, share the same birthday. Sunny's mother follows her birthday on lunar calendar, and sometimes her birthday overlaps with the date of May 15 on solar calendar.
Sunny's father, who is the only man of the house, goes through the burden whenever this day approaches, treating out three ladies of the house.
Meanwhile, Pam's family, who owns a car rental shop, stated that it's like celebrating another Christmas when their kids' birthday comes up.
Members of Girls' Generation told us, that "whenever May 15 approaches each year, all of Sunny's family members get excited from the party-like atmosphere."
In the meantime, Girls' Generation is currently promoting in Japan with their new Japanese single, 'Run Devil Run', and is busy with various promotions, traveling back and forth from Korea to Japan.
Translated by: soCOOL@soshified.com
Edited by: iTriscuit@soshified.com
Credits to: Lee Jaehoon (이재훈) Reporter (realpaper7@newsis.com)/ Newsis.com
Original Article: CLICK