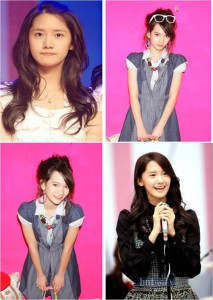 A model spotted in a fashion brand's photoshoot has been garnering attention for looking like SNSD's Yoona.
They look alike from their big, round eyes, sharp nose, lips that aren't thin but not too full, down to their slim facial shape. It was revealed that this 'Yoona look-a-like' is 12-year old Japanese model, MONA.
MONA, who looks like this SNSD member, recently showed off her bubbly charms through the said photoshoot for the pop culture brand, Spicy Color.
It is hard to believe that this model is only 12-years old with her stand 169cm tall and well-proportionate body.
Translated by: ch0sshi @soshified.com
Credit to: 김단옥 기자 – hankyung.com
Original article: LINK