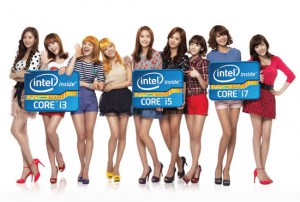 SNSD has been selected as the models for the global enterprise, Intel. They will be targeting 7 Asian countries by promoting through music, 2D and 3D music videos, websites, pictures, and products.
On the 17th, the song and music video will be revealed. On the 18th, SNSD will perform the song at Intel's new product showcase, located in Olympic Park.
SNSD and Intel. Who knew, right? This will be a great opportunity for SNSD to gain more exposure throughout Asia and ultimately, worldwide recognition. Hey, one can dream big. Besides, anything is possible when it comes to SNSD.
Source: http://bit.ly/i8A5v5

Editor: cheesinator