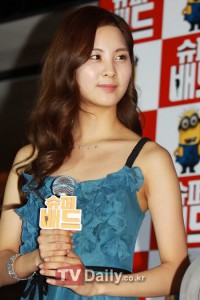 On MBC's new year special edition of 'Come To Play' which will be aired on January 3rd at 11.15pm KST, SNSD made their appearance as guests on the show.
In this special episode, the girls talked about some funny and touching moments. On maknae, Seohyun, Sooyoung revealed, "Right after debut, Seohyun voiced out her request to our manager and her request was none other than 'wearing hanbok and tour the Kyung-Bok Gong (a palace in Seoul) with friends".
To this, Seohyun replied, "As we've never been there, someday, I will go (the palace)", showing her strong determination. Meanwhile, Seohyun's 'class monitor-like' characters and personalities filled the studio with laughters.
Credit: nate.com/tvdaily.co.kr/Fanwonder