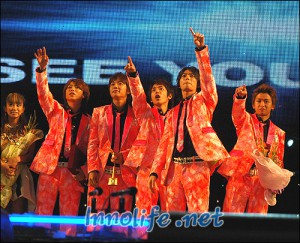 Japan's greatest idols "Arashi' have been selected as the hosts for NHK's "Kohaku Uta Gassen" (AKA: Kohaku).
Sponichi and other Japanese media had a grand announcement on the 3rd, "Arashi has become the hosts for Kohaku." Arashi debuted 11 years ago and their first time participating in Kohaku was last year. This is their 2nd time participating at Kohaku and they've shown their force by taking the hosting seats this year. Arashi conveyed their readiness, "We'll do our best to work together with everyone".
Currently, Korean girl groups SNSD and KARA are creating a whirlwind in Japan and their appearance is also pretty much expected. Most of Japan's foreign news are anticipating these two groups to perform saying, "SNSD and KARA's appearance is a sure bet." SNSD and KARA have both expressed their ambition, "We definitely want to go to Kohaku". Kohaku's performers will be announced at the end of November.
NHK's "Kohaku Uta Gassen" airs on December 31st. Other Korean artists who have performed are BoA and DBSK.
Translated by: Kanki@Soshified.com
Source: [LINK]