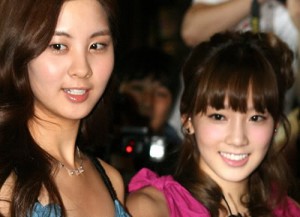 On the 7th, at 7 in the night, SNSD Taeyeon and Seohyun opened the Red Carpet for their dubbing of "Super Bad" at Seoul Wangsimni CGV.
On this day, fans gathered in front of the red carpet a few hours before the opening to see SNSD Taeyeon and Seohyun, letting them know of their success. When SNSD Taeyeon and Seohyun appeared on the red carpet appeared, they started yelling out SNSD's Taeyeon and Seohyun's name from everywhere. Standing on top of the red carpet for the photo session of SNSD Taeyeon and Seohyun's 'Super Bad' character 'Margo' and 'Edith; afterward they had photo times with 2 younger children, immediately following, they had short interview. Photographers used flash all over the place, while fans used cameras and cellphones to take pictures.
'Super Bad' is Pixar, Dreamworks, and a good enough company to compete against, a Universal Pictures animations, which is good enough to compete. SNSD Taeyeon is the oldest of the three sisters, scolding her younger sisters, while being the trustful sister "Margo". Seohyun acts as the second oldest sister who likes to play around girl , "Edith". Animation "Super Bad" will premier this 16th.
Translated by: Yeji@soshified.com
Credits to: 김기영 SBS U포터
Original Article: CLICK