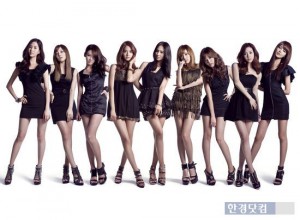 The response to 'Asia's No. 1 Girl Group' So Nyuh Shi Dae debuting in Japan has been nothing less than explosive.
So Nyuh Shi Dae's debut single 'GENIE' was released this past 8th and claimed 1st on Japan iTunes' music video chart. In addition, they have claimed first place spots on Japan's largest music site, music.jp and Japan's largest mobile site's movie section (ringtone video) and video clip section.
In addition, the company has stated that even though this is So Nyuh Shi Dae's debut single, presale numbers have exceeded 80,000 copies and an increasing demand for the album is to be expected.
Album sales aside, the overwhelming demand and interest in various mediums such as mobile downloads, downloads, and music video charts have people looking forward to their activities.
Also, on the 8th, on the Oricon daily singles chart, So Nyuh Shi Dae was able to take a competitive spot in the top 5 along the likes of top singers Arashi and Glay, showing off a good start to their promotions in Japan.
So Nyuh Shi Dae will start off promotions of their first Japanese single, 'GENIE' by showing up on FujiTV's main program 'Dokutane' on the 10th.
credit: aseo @ soshified &
Kim MyungShin Reporter from hankyung.com
original: is here