SoShi's Taeyeon Wears Glasses Because of Infection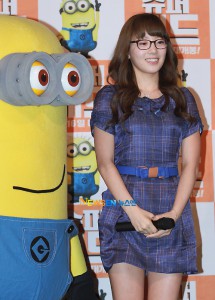 [Newsen Reporters Heung Jungwon Jung Yoojin]
SNSD's Taeyeon had a swollen eye due to an infection (a stye) during the movie event she attended today.
On August 30th, Taeyeon attended the press conference for the movie, "Super Bad" (English title Despicable Me) at the Seoul CGV theatre in Wangshimni. She talks about her first voice acting experience, saying, "I always loved animations and thought voice acting was interesting, and when I was presented with this good opportunity, I was thankful."
"Super Bad" is a funny and touching movie about Gru who wants to be a super villain and an army of minions that help him, and three young girls. During the story, Taeyeon and Seohyun's characters warms Gru's heart and become friends with the minion army.
Similar to Taeyeon's position as the oldest unnie in SNSD in real life, she depicts Margo's calm and cool voice and her image as an unnie that looks after her younger siblings. Seoyhun, on the other hand, has a calm image in real life but played the voice of a young Edith who is an odd prankster.
Taeyeon also talked about the difficulties of voice dubbing, "The most difficult part was getting the timing right with the characters on the screen. If I were an evil villain, I would want to steal the three siblings because they are such amusing characters and it seems like it'd be fun to be around them."
She also explained, "I didn't wear glasses today because my character wore glasses, I wore them because I have an infection in my eye."
"Super Bad" will premiere on September 16th.
*************************************************
Source: Newsen
Translation: taengbear@soshified.com