[07.16.10] SNSD, Besides Singing Ability, 1st place for Looks, Trend, Performance, etc.
MNet Media, survey targets 1000 people
How are our generation's idols recognized by the public? Mnet Media's music research team, for the entire month of June, targeted 1000 adult males and females and asked them to take a survey. The 57 singers (groups) that have currently been most active in terms of their albums·broadcasts, etc. and showed strengths in singing ability▶looks▶friendliness▶trend▶performance▶variety were researched.
The research results showed that besides singing ability, idol groups all placed in the upper ranks in all categories. In the performance category, which evaluates the stage presence, 16 teams in the top 20 were idol groups. In the looks category, a majority were female idol groups. In the top 10 rankings, 7 female idol groups placed: SNSD·Kara·f(x)·After School·2NE1·T-Ara·4-minute. Even in the friendliness category, the girl groups SNSD·Kara·Brown Eyed Girls placed in the upper ranks. Male idol groups received high marks for being suitable with variety programs. On various TV variety programs, 2AM·Super Junior·2PM stand out and have placed in the top 10.
In particular, SNSD placed 1st in the looks·trend·performance·variety categories. Last year, they caused the 'Gee' syndrome and in the first half of this year, created the 'Oh' craze, proving their continuing 'SNSD power'.
However, in the singing ability category, there aren't any idol groups that placed in the top 10. Big Mama·Gummy·Lee Seungchul·Shin Seunghoon and other talented vocalists have placed in the front spots. This shows that the public is still questioning the musicality of idols. This is an obstacle that idols must overcome.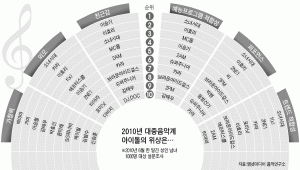 Article by: Jung Kanghyun
Translated by: Hyunjin808@soshified.com/forums
Original link: [Click]
Singing ability:
1. Big Mama
2. Gummy
3. Lee Seungchul
4. Kim Taewoo
5. Park Hyoshin
6. Yoon Mirae
7. SG Wannabe
8. K.Will
9. Kim Bumsoo
10. Shin Seunghoon
Looks:
1. SNSD
2. Kara
3. Lee Hyori
4. f(x)
5. After School
6. Lee Seungki
7. 2NE1
8. T-Ara
9. 4-minute
10. Davichi
Friendliness:
1. Lee Seungki
2. Lee Hyori
3. SNSD
4. MC Mong
5. 2AM
6. Kara
7. Brown Eyed Girls
8. Super Junior
9. Kim Taewoo
10. DJ.DOC
Variety programs suitability:
1. SNSD
2. Lee Hyori
3. MC Mong
4. Lee Seungki
5. 2AM
6. Super Junior
7. Kara
8. Brown Eyed Girls
9. 2PM
10. Kim Taewoo
Performance:
1. SNSD
2. Lee Hyori
3. 2NE1
4. Bi
5. 2PM
6. Brown Eyed Girls
7. Big Bang
8. TVXQ
9. Super Junior
10. Kara
Trend suitability:
1. SNSD
2. f(x)
3. 2NE1
4. Kara
5. 4-minute
6. Lee Hyori
7. Brown Eyed GIrls
8. After School
9. 2AM
10. T-Ara