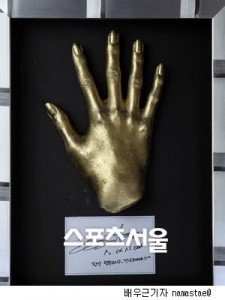 Girl group SNSD's member, Yoona's handprint, at Sportsseoul's 25th anniversary event which started from the past 7th, of 'star handprinting charity auction' (enter 'star charity auction' at www.gmarket.co.kr) is going strong in first half of bidding.
The auction began at 10AM on the 7th and the bids for 2 of Yoona's handprints, as of 5PM on the 8th, are being recorded at 112,000 won and 97,000 won. From the beginning of the auction of Yoona's handprint, fans began spreading the news and the bids continuously increased. By seeing that the starting price of the auction was at 1000 won, you can tell just how popular Yoona is. At the end of last year, Kyungkido raised funds for the needy through an auction of stars' prized posessions. Yoona's green mini-skirt was sold for a whopping 2,010,000 won.
Following close behind Yoona are Kara's members: Goo Hara, Han Seungyeon, and Nicole, girl singer IU, Brown Eyed Girls' Gain, After School's Uee. The results for the auction which ends on the 18th at 6PM, is attracting attention.
Including Yoona, this auction consists of 34 female handprints from: Kara, 4minute, Brown Eyed Girls, After School, Rainbow, Jewelry's Kim Eunjung, Seo Inyoung, IU, and Jung Gaeun. Participating in this auction because of your favorite star's handprint means that you lend a helping hand to children in need. Proceeds from the auction will go to a children's foundation.
Article written by: Kim Sangho reporter
Picture by: Bae Woogeun reporter
Translated by: Hyunjin808@soshified.com/forums
Article link: [Click]