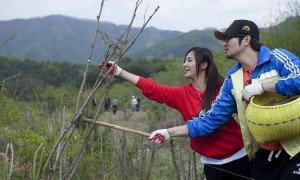 [TVDaily= Reporter Lee Kyungho]
Romance between SNSD member Yuri and Kim Taewoo has been opposed by her mom.
On the episode of Invincible Youth, which will be aired on the 28th on KBS2 TV, the romantic relationship between Yuri and Kim Taewoo has become even more intense. However her mom does not approve of it.
This day, everyone was paired up with one other person and had to gather up some vegetables that are grown in the mountains. Kim Taewoo and Yuri volunteered to be a pair and acted like the program's official couple.
Kim Taewoo, who was excited to be on an outing with just the two of them, joked, "You trust oppa, right?" Yuri responded by saying, "My mom told me not to trust you, oppa" and aroused much laughter.
Yuri further stated that her mom said, "Taewoo is really not for you" and made everyone on set laugh by hinting at her mom's strong opposition.
Still, regardless of her mom's opposition, Kim Taewoo said, "I'm going on a walk with Yuri" and sent a video message to her mom, showing a rather warm-hearted side of him.
source: http://www.tvdaily.c…495741162531002
translation: soshi00@soshified.com