SNSD Has Stopped Their Music Program Activities to Prepare For Their Follow-up Single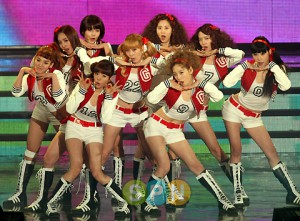 [EDaily SPN Reporter Yang Seungjoon]
Prepare for the attack of "Black" Soshi!
The group SNSD will be temporarily stepping away from shows to prepare for their follow-up single activities.
SNSD, who is currently stirring up the "Oh!" fever in the music industry, will not be appearing on any music program broadcasts during the second week of March in order to prepare for their follow-up single.
A representative from SNSD's management company, SM Entertainment (also known as just "SM"), revealed on March 11th, "SNSD had no choice but to pull out from the music programs to prepare for a perfected performance." SNSD is currently doing last-minute changes of the date of their first performance of their follow-up song.
However, Yuri and Tiffany are to MC MBC's "Show! Music Core" as scheduled. Yuri has been diagnosed with the swine flu on the 5th of March and has been declared fully recovered on the 10th. She will be returning to the show on the 13th.
SNSD has been promoting their second album title song, "Oh!", since last January. They are to release a re-packaged album containing their new song, and are planning to do an overlapping promotion.
On another note, SM released a picture of the Black-Soshi-Concept Yuri on the 11th, leading music fans to look forward to the new song.
************************
Source: EDaily SPN
Translation: taengbear@soshified.com
1) Yuri fully healed from swine flu in just five days?! O_O
2) A repackaged album?! omg…