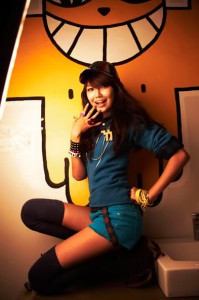 SNSD's Sooyoung confessed about her Oh! outfit number.
In KBS 2TV "Entertainment Relay," which was aired on January 30th, they exclusively interviewed SNSD, who came back with Oh!
SNSD said, "Like the lyrics, 'Don't think of me only as a younger sister. You'll regret it a year later,' the girls have become more confident and full of energy to even say 'Oppa, I love you.'"
They also stated, "During the filming of the music video, the lights went out, but that was a sign of a great success, so everyone clapped," and revealed their behind story. This music video also shows a scene where singer SNSD and cheerleader SNSD meets.
In SNSD's new concept, there are cheerleader outfits. On the top, each member wrote the numbers they like. Tiffany complained, "I put the number 0, but the two digit numbers look more prettier, and Jessica kept saying 'You're our team's hole!' to me."
Members exposed the fact that Sooyoung wrote the number 24 to marry at age 24. Embarrassed, Sooyoung reasoned, "It's just a wish. If I get married, then I can't do SNSD anymore, so I'll flip the numbers over and marry at age 42."
On a side note, SNSD experienced a broadcasting accident during comeback stage in MBC "Show! Music Core."
Credit: Sosiz
Translation: typicalharu @ soshified.com/forums