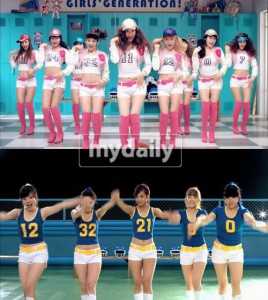 SNSD's 2nd album's title song's Music Video was released today.
In the SNSD MV, two concepts were shown, one being the concept of cute and very lively cheerleaders.
While watching the music video, the interests of audiences got heightened by the numbers written on the individual members uniforms. SNSD presented two kinds of cheerleader outfits and people wondered what the numbers of each member represented.
In the MV, SNSD members wore the numbers: (ordered by age)
Taeyeon: 9
Jessica: 22
Sunny: 12
Tiffany: 0
Hyoyeon: 32
Yuri: 21
Sooyoung: 24
Yoona: 7
Seohyun: 11
In this regard, SM Entertainment, SNSD's management company, explained on 27th via My Daily, that, "we have designated the numbers according to the members favorite numbers."
This MV was recorded in early January at the studio sets in Ilsan and Pajoo of Kyung-Gi province. Director Cho, SH directed a brilliant and sensuous screen to express the bright and lively charm of the cheerleader-transformed SNSD.
Particularly, given that the title song, "Oh!", the song is of the electronic pop genre filled with lively and rhythmical energy, the MV also expressed fresh appearance of SNSD members who cheered for an American Football match as a cheerleading club.
Meanwhile, SNSD's regular Album #2 will be sold in the offline market from the 28th and SNSD will return to the stage on the 30th via MBC.
Source: [LINK]
Translator: Seohyun_is_Best@soshified.com