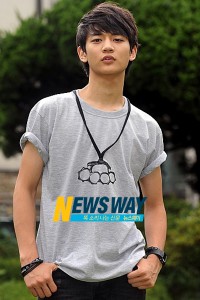 It was uncovered that SHINee Minho's ideal girl is Yuri not Goo Hara.
On 'Invincible Youth' aired on the 27th of November,
Minho voted his ideal out of the G7: Goo Hara (Kara), Narsha (Brown Eyed Girls), Yuri (SNSD),
Sunny (SNSD), Hyomin (T-Ara), Sunhwa (Secret), Hyuna (4 Minute).
Minho picked Yuri, Sunhwa and Hyuna for the first round. Goo Hara (to her surprise)
did not get selected along with Narsha. (Minho picked one out of two people each time,
similar to the 'Ideal World Cup')
Previously Minho picked Goo Hara as his ideal on another variety show,
which was why Hara was shocked by her elimination.
Minho explained "There was a part edited out. I was forced to pick out of Kara only,"
at this Hara could not hide her embarrassment making her the laughing stock of the day.
Eventually Minho picked Yuri.
Source: News Way
Translation: Just Love~! @ Soshified.com/forums