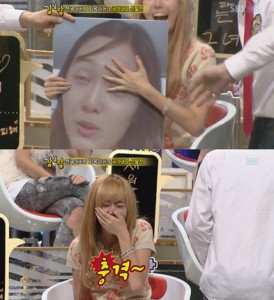 Eeteuk, Eunhyeok, Shindong revealed various amusing photos of stars such as Eun Jiwon.
On 'Strong Heart' aired on November 25th, Super Junior's Leeteuk, Eunhyuk and Shindong of 'Boom Academy'
are taking place of Boom who is currently in military service. They have risen above their teacher Boom
to give quick witted performances as well as revealing past photos of guests on the show.
They revealed SNSD Jessica's photo making it the talk of the day.
The usually shy and feminine Jessica had her photo taken when her eyes were in the midst of closing.
It is excellent timing indeed.
Jessica's shocked reaction at the unexpected photo brought out laughter from all the viewers.
'Eun Kiddie' Eun Jiwon had his photo revealed at the time he was in the idol group 'Sechs Kies.'
He couldn't hide his anger(?) at the photo revealing his swimming costume.
Eun Jiwon wore a forced smile and attempted break the photo into thirds.
Also, Lee Yoonjin and MC Mong were surprised at their photo from 'Ya Shim Man Man,'
Hanyoung likewise screeched as she ripped up her graduation photo.
Source: Newsen
Translation: Just Love~! @ Soshified.com/forums