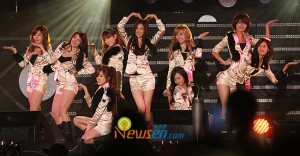 The 15th '2009 Dream Concert' opened on October 10th at 6:30pm
at Seoul Mapogu SangAm, Seoul World Cup stadium.
The concert was hosted by Super Junior's Kim HeeChul, Song JiHyo and MC Mong.
A surprising 17 teams gathered that day, including: Girls' Generation, Super Junior, Big Bang,
2PM, SHINee, Jewellery, 2NE1, 4Minute, Kara, T-ara, f(x), 2AM,
ChaeYeon, WheeSung, Park HyoShin and Kim TaeWoo.
At the concert, Super Junior M (HanKyung, SiWon, RyuWook, Kyoohuyn, DongHae, Henry, Jomee)
exposed 'Super Girl' for the first time. After Super Junior M released 'Super Girl' it took 1st place on Taiwanese charts.
Due to popular demand they especially prepared a Korean version for Korean fans.
Korea's ballad kings Park Hyoshin and WheeSung sang Michael Jackson's 'Heal the World,'
Kim TaeWoo sang his increasingly popular 'Love Rain' (Sarang Bi) and
MC Mong with his new repackaged album performed 'Love U Oh Thank U' and 'So Fresh.'
2PM performed for the first time as a whole 6 member member group
after 2PM Jaebum's disqualification from the group.
The recording of 2PM is to be edited out and will not be broadcasted.
The '2009 Dream Concert' is to air on Sunday 11th of October at 3:30 pm (Seoul time) on SBS.
Translation: Just Love~! @ Soshified.com/forums
Source: Newsen
Written By: Ji HyungJoon @ Newsen