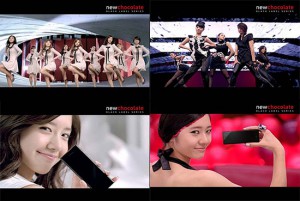 SNSD and f(x)'s New Chocolate CF is to be revealed on October 10th
The CF is being created into a music video to show off its stylish and presitigious aesthetics.
The digital single 'Chocolate Love' is showing explosive popularity,
produced by Britney Spears' producer team; the famous "Bloodshy & Avant."
'Chocolate Love' has collectively gathered the nation's top girl groups;
SNSD's innocent and charming image and f(x)'s trendy and charismatic feistiniess,
and blended it with the music video.
The two teams have very contrasting songs and dances to each other.
SNSD and f(x) are opening a showcase in Seoul, Lee Taewon at 'Club Volume.'
Only 100 people will be invited to the showcase through the CYON website (www.cyon.co.kr)
LG's Vice president Cho SungHa of the main branch says
"'The New Chocolate phone will transcend the preceding Black Label Series
in design and performance, it is LG's new attempt at something like this.
"Through this CF, I hope to see SNSD and f(x) exceed Big Bang and 2NE1's 'Lollipop' and create a whole new sensation.
Source: Newsen
Written By: Kim Hyungwoo @ Newsen
Translation: Just Love~! @ Soshified.com/forums