[07.19.09] SNSD wins Mutizen Song Award at Inkigayo for the second consecutive week, "Taeyeon shows her cute wink of joy"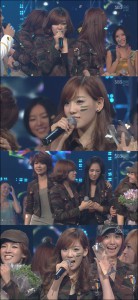 Nation's girl group, SNSD, conquered Inkigayo with their 2nd win in consecutive weeks.
SNSD won the Mutizen Song Award, which represents the No. 1 song on the 19th of July at the live broadcast of SBS Inkigayo with the title track "Tell Me Your Wish (Genie)" from their second mini-album. For the second consecutive week, SNSD has won the Mutizen Song Award following their win on the 12th of July.
Following the No.1 place at the "Music Bank" K-Charts on the 10th and with sweeping "Inkigayo" too, they showcased the "nation's girl group"-like power.
SNSD said: "We are thankful to just have the opportunity to perform onstage. We want to say thank you, especially to the fans. We love you."
On this day, SNSD shook the hearts of Korea's men with their "Hacky Sack dance" and "Beautiful legs dance", and with an attractive dance, song and performance, they caught the viewer's attentions. It was a performance where you could easily understand the reason why the SNSD syndrome has hit South Korea so hard.
Especially with improvements in the dance and stage after several performances, SNSD showed us to the fullest, why they have achieved the spot for South Korea's best girl group.
Different from the times when SNSD swept the music industry with "Gee", they're showing a more mature side now which attracts attention among the audience and viewers. SNSD is making the hearts of all the male fans flutter with the "Hacky Sack dance"/"Beautiful legs dance" performances using their smooth leg lines. The general point is that they got more mature compared to "Gee".
[…]
Source: Newsen
Written by Kim Hyungwoo
Translated by Xeth@soshified.com/forums
Edited by Young Buck@soshified.com/forums, Soy@soshified.com/forums