2009, Report on the first half of the year… Highlight on Girl Groups' Activities
[OSEN Reporter Lee JungA]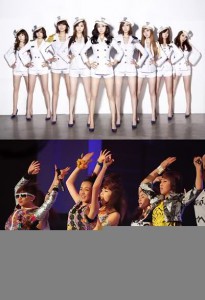 In the first half of 2009, SNSD and 2NE1 stand out as representatives of girl groups.
GOMTV released the music chart for the first half of 2001, and, using the views on their music videos as the criteria for this report, the predominance of girl groups such as SNSD and 2NE1 is quite noticeable.
# Girl Groups Power, 'SNSD VS 2NE1'
SNSD, 2NE1 and other female groups have been sweeping away and topping various music charts, and their competition and rivalry is getting more and more intense.The report released by GOMTV showed the top 10 songs of the first half of the year, and eight out of ten of them are by female singers. First place went to SNSD's 'Gee', which has the record of 8,570,000 views in the site.
The second and third place went to 2NE1 and Bigbang's 'Lollipop', and the former's debut song 'Fire'. SNSD and 2NE1 shared the top place of the charts for three month each, SNSD dominating from January to March and 2NE1 from April to June, revealing the fierce competition between girl groups for the leading position.
As for soloists, female singers Son Dambi and Chaeyeon occupied the fourth and tenth place respectively.
# Girl Groups Power in the rise, Comparable to Male idol groups
Big Bang, who are temporarily promoting themselves in foreign countries, shared the second place with 2NE1 with their song 'Fire'. Super Junior and 2PM's 'Sorry Sorry' and 'Again and Again' share the 10th place. Special note to Outsider's 'Loner', who has gained explosive popularity since the song was reveal on June.

# First Place in Music Video Download, 2NE1
On GOMTV's website the most downloaded music video is 2NE1's 'Fire', which got 1,000,000 views in only one day. In second place is SS501's 'First Episode', and third is SNSD's "Tell me your Wish".
# The most loved ballad song of the first half of the year?
Even thought all top ten songs in GOMTV's music chart are dance songs with a fast beat, the most popular ballad was 8eight's "I don't have a heart". Other popular ballads are SG wannabe's "My love is a crybaby", and Tiffany's "By Myself, in the 16th and 26th position respectively.
# The remaining half of the year?
As usual, SNSD and 2NE1 are occupying the top places in July's weekly chart, and it seems that the girl group trend will continue for the remaining half of the year. The songs competing are Seo Taeji's new single from his most recent album, 'Morning Eyes', quick rising start Outsider with 'Loner', and SNSD with 'Tell Me Your Wish (Genie).' Furthermore, popular idol groups from the 90s Lulla and Noise are making their comeback this week, and other popular artists such as MC Mong and Psy will heat up the korean music scene in the second half of the year.
Translations: Cph@Soshified.com
Source: OSEN