[06.22.09] SNSD "Tell Me Your Wish (Genie)" No. 1 On Charts At Release Date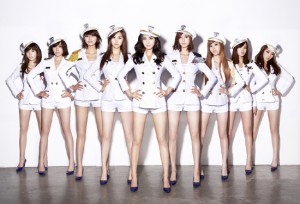 SNSD's new song "Tell Me Your Wish (Genie)" rose to the number one spot on online music sites on its release date.
The title song of SNSD's 2nd mini album, "Tell Me Your Wish (Genie)", was released to the public on the 22nd at 10 a.m. through various music sites. After its release, the song shot up on real time charts and swept the charts in achieving the number one spot within a short period of time.
SNSD is planning to show their power once again after they have started with the "Gee" syndrome during the first half of the year which led to the explosive popularity of the group. Even with the tough competition of the new girl group craze, especially with 2NE1, the outcome and its significance is different.
"Tell Me Your Wish (Genie)" is an impressive and trendy dance song with a fantastic introduction and a bright and cheerful harmony in its refrain. The meaning behind the song is that SNSD will become the "goddesses of fortune" to all the busy, tired, and depressed people who lack self-confidence and they will encourage everyone with the energy to regain one's lost passion and courage.
After the announcement of SNSD's comeback, the "Marine Girl concept" photos were number one on various portal sites daily which attracted much attention. Furthermore, the recently released teaser video is gaining explosive popularity among music fans and netizens.
SNSD's promotional activities will start with the first performance of "Tell Me Your Wish (Genie)" on the 26th on KBS 2TV's Music Bank, and the next performances on MBC's "Show! Music Core" on the 27th and SBS's "Inkigayo" on the 28th.
Source: Newsen
Written by Kim Hyungwoo
Translated by Xeth@soshified/forums
Edited by minjoo@soshified/forums