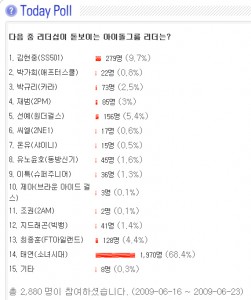 SNSD Taeyeon is a 'Mom's Friend's Daughter' who even has many people awknowledging her?
The community portal site DC Inside's DC News has been doing a survey since the 16th on the 'Idol Group Leader Whose Leadership Stands Out.'
Kim Hyunjoong (SS501), Park Gahee (After School), Park Gyuri (Kara), Jaebum (2PM), Sunye (Wonder Girls), CL (2NE1), Onew (Shinee), Uknow Yunho (DBSK), Leeteuk (Super Junior), Jaeah (BEG), Jokwon (2AM), Gdragon (Big Bang), Choi Jonghoon (FT Island), and Taeyeon (SNSD) are the nominees.
By the 18th at 9AM, 2,880 people had taken part, with Taeyeon leading first place with 68.4% (1,970 votes) of the people in favor of her. It's 7 times the amount of the percentage in favor of Kim Hyunjoong, who is at second with 9.7% (279 votes). Sunye is at third with a 5.4% (156 votes).
If this goes on, there isn't much chance that there will be changes to the winner of this poll.
The netizens who took part in this poll showed love towards their favorite idol groups through comments, but most of them seemed as if they chose the leader of their favorite idol groups, not the leader whose leadership stands out, making it more like a popularity contest.
This survey will go on until the 23rd.
Translations credits to daisy kim @ Soshified