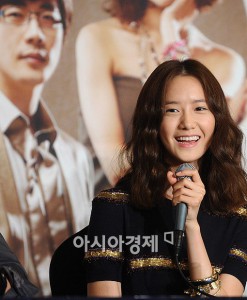 [Asia Kyungjae News Reporter Hwang Yonghee] The SNSD member Yoona, who is currently acting in MBC "Cinderella Man," is playing her role as an adult perfectly. She debuted as a singer and crossed over to such a diverse and emotional actress, catching the attentions of viewers.
She's acting alongside the hallyu star Kwon Sangwoo, and senior actor/actress Song Changui and Han Eunjung, showing a cute and lively, and sometimes serious personality. By acting all these emotions, she is showing her "green thumb" in acting to all the viewers.
Yoona is so good at acting as an adult woman that saying she's in "Ladies Generation" instead of "Girls Generation" would not be an exaggeration. It's hard to believe that her only acting experience is KBS daily drama "You Are My Destiny."
An affiliate of a broadcast didn't hold back on compliments, "If Cinderella Man's viewer ratings are good, she (Yoona) could become the best female star. She was originally a singer but in her first lead role in a mini-series, she shows potential of being a versatile actress, showcasing different acting roles. She's an amazing actress."
She plays the role in which her father suddenly passes away and forces her to return from her studying in Paris. While being a stall vendor, she's chosen as a designer for a domestic, leading fashion company. Although it's difficult, she energetically develops and paves her own path. After drinking a considerable amount of soju, Yoona cutely dances to Lee Hyori's "U-Go-Girl".
On the other hand, she shows solemn emotional acting, crying while holding her hospitalized mother at the hospital, touching the heartstrings of viewers. She easily coordinated melancholy-acting with sunbae actor, Kwon Sangwoo, and shows potential as a female actress, gaining lots of attention.
On the 20th in the drama, Song Changui and Kwon Sangwoo feel Yoona's "love and charm", creating a love triangle act and she showed her growth as a mature, adult actress.
There's Song Changui, who persistently wants love, and Kwon Sangwoo, who likes Yoona but deviates hopelessly. The anticipation for how Yoona will show herself is huge.
This past year, through the KBS daily drama 'You Are My Destiny', Yoona won the 'Best New Actress' award and has become the 'heroine' of the living room TV. Yoona's role is very important in 'Cinderella Man'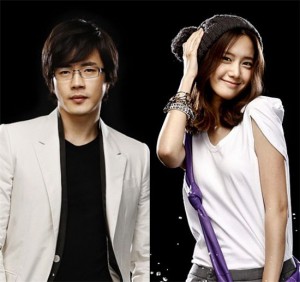 Credits to : Hwang Yonghee@asiae.co.kr & sosiz
Translated by : mishybear@soshified.com/forums & Hyunjin808@soshified.com/forums