Big Bang Soshi WG Idol Star Appears On An Actual Test Question 'Effectively Eases the Strain'
As popular stars began to appear on the actual test papers of middle and high schools, fans have been very supportive of the idea.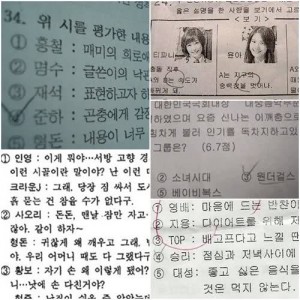 The usual TV stars that show their image, characteristic, or personality through ordinary actions were portrayed by the character names of Chulsoo and Yunghee in a given writing, but now, they are being replaced by the current popular stars that are active on T.V.
The names and personalities of the imagined couples on MBC â??Sunday Sunday Night's popular corner 'We Got Married' are appearing on questions while MBC â??Infinity Challenge's members, Noh Hongchul, Park Myungsoo, Yoo Jaesuk, Jung Junha, Jung Hyungdon's names have seemed to appear on objective test questions.
In particular, the problems with the popular idol groups SNSD, Wonder Girls, Big Bang, and etc have been the most popular among students. In 2008 at a high school in Busan, SNSD members Tiffany, Yoona, and Taeyeon were mentioned in a difficult science problem that was related to artificial satellites and made the students laugh.
In another school's music test, there was a question asking "Who is this girl group of 5 members that monopolized their popularity by singing the addictive song, 'Tell Me' with their shoulder dance?� The available answer choices for this problem were Papaya, Circle, SNSD, Baby VOX, and Wonder Girls. Big Bang also appeared in a Japanese test of a middle school.
Recently on a social studies test of a middle school's midterm exam, there was a question about the actor, Lee Minho, who leaped into fame through the KBS drama 'Boys Over Flowers' who appeared under his character name, Goo Junpyo.
Thus due to the appearance of the celebrities on test questions, teachers have been able to take out the burdens of the students and the students themselves are able to relieve their strain through the appearance of the familiar star names and characters.
—
Credits: Newsen.com & soshified.com
http://www.sosiz.net/info_data/3879883
Translated by: blingbling9@soshified.com