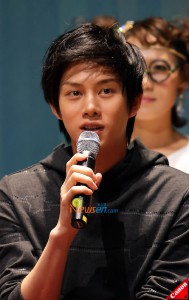 Popular male idol group Super Junior's member Heechul had expressed joy at his group clinching 1st in various music chart rankings.
Super Junior won 1st on the overall music chart ranking for March at KBS2TV's "Music Bank" held live on the 27th, clearly showing why they were at the top of the music chart rankings of 3 major terrestrial TV channels in Korea for 2 weeks.
Super Junior broke down in tears upon hearing that they had won 1st, causing their touched fans to get emotional as well. Super Junior had then thought of Kim Kibum who was unable to be onstage with them and shouted, "Kibum, us hyungs had did it!" The heartfelt congratulations from fellow SM Entertainment girl group SNSD for Super Junior's win attracted the attention of the audience and tugged at their heart strings.
Shortly after Super Junior's win on morning of the 28th, Heechul posted an article on his Cyworld Minihompy to share his joy of winning with the fans.
Heechul penned down his thoughts saying, "I'm most thankful towards Kibum who called immediately after the win as well as the fans. Without the fans, there will not be the Super Junior of today." He followed by saying, "Many thanks to 9 of my adorably cute younger brothers – SNSD. It's really a waste and regret that I was unable to dance 'Gee' during the program. I'm sorry that I've always treated you girls like guys but I'm still thankful for your unwavering support and encouragement."
Meanwhile, Super Junior's third album "Sorry, Sorry" had swept all top spots at various music chart rankings, creating a new popular wave of "Sorry, Sorry" throughout the Korean music industry.
Credits: newsen.com
Translation: Sherry@S♥ne4U and bubzooka@soshified.com
—
Lol it's not a translation mistake, Heechul really treats SNSD as guys… and hence his dongsaengs or younger brothers. Would have been cool if he broke out into the Gee dance on Mubank yeah? =D