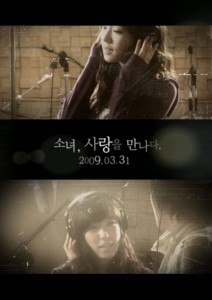 SNSD Tiffany expressed happiness of releasing her solo song.
Tiffany released 'By Myself', one of SBS Drama Ja Myung Go OST, through various music sites on the 26. Tiffany is singing as a solo artist for the first time. Out of SNSD, Tiffany is the third to release a solo song after Taeyeon and Sunny.
Tiffany said, "I got to sing a solo song for the first time", "I am very happy. I practiced 'By Myself' so much that other members learned its lyrics. I am excited", in a meeting with Newsen interviewer on the 27th.
And added "As Taeyeon got active as a solo artist, I also had a desire to be a solo artist", "I am getting so excited to sing by myself. I feel rather happy than burdensome" as she couldn't hide her exciting feeling.
She also explained, "And I think real singers are the ones who can unite the song's emotion and listeners' heart together", then said "I put an effort to achieve that better. I feel like I have improved a lot compared to the past".
She clarified, "I sang 'By Myself' thinking that the song is my story and my current feeling", "I am too young to know the true meaning of love yet, but in order to fully understand this song, I practiced every night alone".
"Other than anything, just the fact that I can sing is what makes me happy", "I found it quite disappointing when people looked Tiffany as a "variety show member". But I am so happy now that I can meet fans with my own song" then she smiled happily.
Lastly she added "I am concentrating a lot on improving my weakness, Korean pronunciation, and on developing better emotion", "I learned a lot while recording this song"
[Short: the song is doing great on charts, and a duet with K.Will is about to be released]
credits: ê¹â?¬Ã­Ë?â?¢Ã¬Å¡Â° cox109@newsen.com
translations: bug@soshified.com