"We have become stronger during the break!" 9 member female group SNSD opened the door to year 2009 and started to engage in active promotion of the mini album, 'Gee', after 8 months break.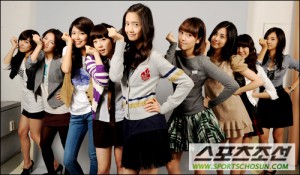 The response they got was huge. In just 2 days after MP3 release, the song topped all kinds of online music chart, not to mention 'crab leg dance' taking the top rank in search keyword rankings. Also people showed immense interests in various outfits such as coloured jeans shown in the M/V and performance stages. This kind of response is perhaps a well deserved compensation for their flawless preparation. SNSD said, "We prepared for a long time. As fans showed very high expectation, we were worried, but we are glad that our efforts have paid off well".
The biggest asset acquired during the long break is an improved teamwork. They were confident in saying, "our teamwork has improved even more as we shared a common goal. There are members who have practiced together for 10 years since their trainee days. SNSD's biggest weapon is definitly a strong teamwork".
Before their comeback, the album cover was also a hot issue. It showed girls wearing rollerskates, which were popular in 80s. SNSD answered "we are not THAT young" in response to the question "have you ever tried on rollerskates before?".
They added, "rollerskates were discountinued in production so we specially designed them. They are figure skating shoes with wheels attached instead".
[…]
As they took a long break last year, SNSD didn't try to hide their desire for promotional activities of this year. "This year began with SNSD but will also end with SNSD. We already have many songs recorded in stock, and we will be doing various activies like international promotions, concerts, etc".
o 이정혁 기자 scblog.chosun.com/jjangga7
t bug@soshified.com