Immense Popularity of the Haptic 2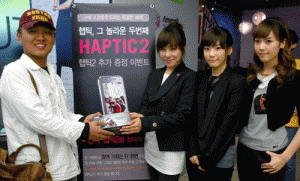 SNSD with Yoon Sukjoon (23 yrs old), the first to buy the Haptic 2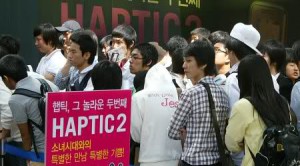 The Samsung Haptic 2 premiered on the 25th last week with exploding popularity.
A special AnyCall Haptic 2 Premiere event was held on the 27th at the Shinchon AnyCall Studies, with people lining up outside the studio up to seventeen hours before the event. Moreover, all one hundred of the new Haptic 2s that were specially prepared for this event were sold out within thirty minutes.
Additionally, the AnyCall models SNSD were also present at the event and gave out 50 signed cds to those waiting to buy the Haptic 2.
The AnyCall spokesperson said, "We've done many events like this in the past to premiere new phones, but this is the first time that this many people have waited and stood in line for one of our phones", adding that "we never anticipated the popularity of the Haptic 2 to be this great."
There has been a rush of constant orders for the Haptic 2 from both the sellers and the consumers, with over 2000 orders within three days.
The AnyCall Haptic 2 boasts a 5 megapixel camera, an 8 or 16GB internal memory, and a 3.2 inch display screen. Just like its predecessor Haptic, the Haptic 2 is largely user customizable, with its logo theme being "Your Very Own Haptic."
Credits to SportsSeoul and boxclub @ www.soshified.com/forums