Here is a better article than the one before… the other one had mistakes in it and was written pretty bad…
SNSD's charismatic "Shinhwa transformation".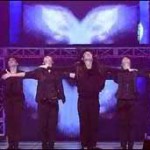 9 female idol group SNSD got a lot of attention be re-inacting Shinhwa's T.O.P performance in the SBS Inkigayo 500th Special.
SNSD appeared in the Inkigayo 500th Special on the 7th and prepared the oldest idol group, Shinhwa's hit song "T.O.P". SNSD wore black boyish clothes and danced the powerful choreography of Shinhwa in their own style.
After debuting in August of last year and always presenting a cute and bright image, the fans feel that SNSD showed a different part of them.
One SNSD related person said that "SNSD worked hard for this performance."
He/she added, "After finding out that SNSD was doing Shinhwa's T.O.P, Eric recorded the rap again to help them in the performance."
Other than SNSD, DJ Koo and Hwangbo, SunYe of WG and Jokwon of 2AM, Lee Hyori and Kara, Jewelry and V.O.S, Big Bang and Um Jung Hwa did performances. Also, the MCs Eun Jiwon and Huh Eejae sang Energy with Mighty Mouth.
Also, Big Bang's Seungri, SuJu's Shindong and Sungmin, SHINee's Taemin, and 2AM's Jokwon performed together under the name "WonderBoys." The show also featured DBSK's teaser video for their 4th album which will be released on the 24th.
Credits to: Hwasu
Translations By: FanyLove @ soshified.com/forums