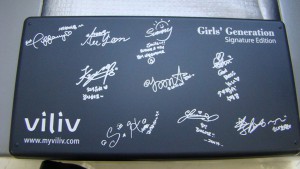 wow according to http://zzoozzoo.net/soshi/
[quote]Viliv PMP Girlsâ?? Generation Signature Edition, of which only 2000 units were released yesterday, have been sold out just a day after its release.
Considering each unit costs approximately $500, Viliv just earned a revenue of one million dollars within two days. This is what hiring the right spokespersons can do for your company.[/quote]
Wow honestly .. haha you can't beat a sponsor like that .. dang SNSD can basically sell anything and i would probably buy it.
picture credits to blu_smiley