rachcat4
Member Since 05 Sep 2012
Offline
Last Active Dec 10 2018 02:05 PM
About Me
I have been a sone for 1 year and 2 months. Since March 21, 2012 I have learned the ways of a sone and ever since TaTiSeo I have grown more and more of a sone. I now even have posters. I love all 9 girls EQUALLY and never leave hate on any of them. But if you leave hate on my Yoona or Sooyoung ILL BE WATCHING YOU.

My Bias is Yoona and i'm a proud YoonAddict
I also am a Sooyoungster(she was my first bias till I met Yoona)
All the others are in there too.
Sooyoung has just been promoted to 2nd Bias because I just love her
My Favorites List(does change often)
Yoona

Sooyoung

Seohyun

Jessica

Taeyeon

Hyoyeon

Sunny

Yuri

Tiffany
​As I said my list does change often so these numbers are not permanent. So don't get mad if your bias is at the bottom I still love them.
http://rachim4.tumblr.com/ Thats My tumblar. I blog about SNSD and other fandoms too JUST WARNING.

My top ships
1. SooNa
2. SeoTae
3. HyoSica

My Dream is for Sooyoung, Yoona, and Jessica to be in a Sub-unit but that will never happen.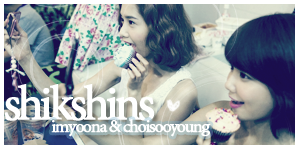 Certified SooNa Fan

My Soshi fics
Late soothing Nights - Soona One Shot
---
Community Stats
Group

Soshified

Active Posts

174

Profile Views

6693

Member Title

SoshiStruck

Age

30 years old

Birthday

July 5, 1992

Gender

Female

Location

NJ - USA

Interests

Computers and SoNyuShiDae
Also Yoona and Sooyoung

Favorite SoShi Member

Sooyoung

Proud citizen of

United States (US)
Viewing Profile: rachcat4