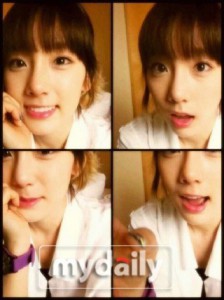 Recently, Taeyeon from Girls' Generation uploaded a new picture of herself onto the internet, and the photo has been spreading like wildfire.
On the morning of the 17th, a new picture which had 4 different frames titled "Taengoo's New Selca TT TT" was uploaded onto an online community. In the photos, Taeyeon had a very white and smooth complexion, and her poses expressed her sunny personality. With her particularly large, clear eyes, bangs and immaculate skin, Taeyeon portrayed her friendliness and innocence with just 4 different camera angles.
A member of the community with the ID "Piano" praised Taeyeon's cuteness by leaving a message which said "Totally cute!" Apart from that, various netizens have also been leaving comments such as "Taengoo-ah, I love you!" and "You're really so pretty that I'm about to go crazy!"
How about you? Are you about to go crazy too?
Credits: Source: www.mydaily.co.kr
Written by: gayqueenful@soshified.com
Have a news item that you think Soshified should know about? E-mail us at tip@soshified.com.
Follow us on Twitter: http://twitter.com/soshified for the latest on Girls' Generation.