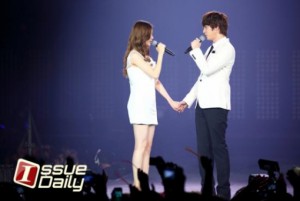 The publishing of Girls' Generation's youngest member, Seohyun's Paris Diary on Issue Daily has started a great sensation. Every day, the number of visitors on Issue Daily surpasses 400 000, and fans have praised Seohyun's writing skills as well as congratulated her on her new relationship with Issue Daily. Seohyun's Paris Diary is written by Seohyun herself, and her writings are an account of what happened throughout her stay in Paris, and the performances during SMTOWN LIVE in PARIS. Not only did Seohyun produce the fantastic piece of writing, she also took many pictures and made sure to add them into the publication. All Issue Daily did, was to edit her grammar and spelling mistakes.
This column confirms Seohyun's wide knowledge and extraordinary writing skills as the best out of all the idols and Girls' Generation; the 9 warriors who are imprinting the Korean culture worldwide. Through this "Paris Travels", Seohyun expressed her thoughts and feelings she had while being in her early 20s. In her writings, she shared her touring of Paris on the first day, the effect of the Hallyu Wave on the second day, and the ecstatic SMTOWN LIVE in PARIS on the third day.
After having published two columns, Seohyun has revealed during the third publishing which was released on the 15th that she is planning to release 2 or 3 more columns by the beginning of next week. She mentioned that her decision to do so was fuelled by all the positive support from netizens. As the curiosity of how the next column will turn out to be rises, Seohyun's Paris Diary remains in the centre of attention.
Posts in order-
1. The Europe I dreamed of, the first in Paris, France.
2. Become a Parisian today! The world is wide and overflowing with things you don't know.
3. This is Paris, France, and we are Korean singers, Girls' Generation.
4. The crossing of Europe and the Hallyu Wave in France.
5. Seeing SMTOWN LIVE in PARIS in pictures.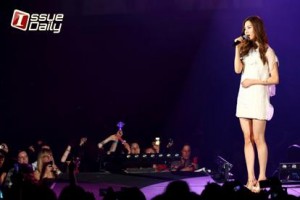 3. This is Paris, France, and we are Korean singers, Girls' Generation.
It is finally the day of the concert! No, it's not Girls' Generation's concert, but SMTOWN LIVE in PARIS! That explains why I saw so many familiar faces. The feeling of meeting all my seniors and juniors who have been busy with their own schedules is really good!
During the SMTOWN LIVE in PARIS rehearsal, everyone greeted each other and asked each other how they were doing. It was so enjoyable and very pleasant for all of us to perform together overseas! Especially since all the seniors and juniors performed on stage with their individual uniqueness and colour. Through this way, we helped to compliment the pros and point out the cons, and it led to the concert becoming so much more meaningful.
Out of all the different special stages, I had the chance to have a duet stage with Super Junior's Kyuhyun senior. It was so nerve-wracking, but enjoyable too at the same time. I created a meaningful stage in Paris with Kyuhyun senior by singing "Way Back Into Love". As it was my first performance in Paris, I wanted to make sure that it would be a performance I would never forget.
Kyuhyun senior's soft and soothing voice is really excellent! Of course he sings well! There was some pressure in having a duet performance with such a senior, but on the real stage, I was very relaxed and happy. Kyuhyun senior tried his hardest to make it easier for me, and as I think back now, I am extremely thankful and grateful towards him. Without Kyuhyun senior's thoughtfulness, it would have been very difficult. I am so thankful.
It is finally Girls' Generation's stage!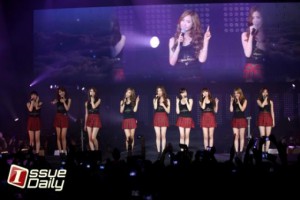 When I had been doing the duet performance with Kyuhyun senior, I couldn't really see the audience very well because I was too focused on the song. However, when I was on stage together with my members, all the people in the audience came into my view one by one. At the moment, it was impossible not to be surprised. Everyone was European and they dressed in really great outfits. Even with just a glance, it seemed like the place was filled with French fans and fans from all over Europe.
Although it was not perfect, the fans were singing our songs in Korean and they cheered for us. I started tearing when I heard them because I was so thankful and grateful towards them. It was a different feeling compared to performing in Asia, and the new feeling struck my heart.
Still, an unfamiliar scene was right in front of my eyes, and until now, I can still remember their various expressions. They tilted their heads, smiled, cheered excitedly, applauded, and then listened to our songs with bright smiles. After each performance, they would rise up from their seats and give us a thunderous applause. It was such an amazing and emotional moment, and I kept repeating in my head, "We are Korea's Girl's Generation."
After the performance of "Run Devil Run", "Tell Me Your Wish", "Gee", "Kissing You", and etc, I felt like the members and I got a lot closer to the unfamiliar audience by performing passionately. We greeted the audience with our imperfect French, and they in return shouted "Girls' Generation!" with their imperfect Korean. During this time, I felt like the concert was at its peak.
With music, we became one, and shared a generation heart to heart.
Credits: Source: www.naeil.com
Written by: gayqueenful@soshified.com
Translated by: typicalharu@soshified.com
Have a news item that you think Soshified should know about? E-mail us at tip@soshified.com.
Follow us on Twitter: http://twitter.com/soshified for the latest on Girls' Generation.