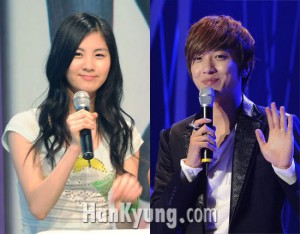 "YongSeo Couple" Jung Yonghwa-Seohyun, presented themselves in perfect harmony at "Music Core".
Virtual couple Jung Yonghwa and Seohyun showed a fantastic joint stage performance through the broadcast.
On the afternoon of the 4th from 3:45, Jung Yonghwa and Seohyun sang the hit songs "Run Devil Run" and "Love Light" on the broadcast of MBC "Music Core".
That night's broadcast was recorded as part of the August 29th, 7:00 Incheon Munhak Stadium "2010 Incheon Korea Music Wave".
A virtual couple on MBC "We Got Married", the two people sang SNSD's hit song "Run Devil Run" with a rock genre twist, which attracted attention.
In addition, Jung Yonghwa's composed song's ("Love Light") beautiful melody and lyrics aligned with fond physical contact, which aroused envy.
Also, in other parts of the night, BoA, Super Junior, Se7en, SNSD, Kara, Taeyang, 2PM, Son Dambi, Brown Eyed Girls, CN Blue, SHINee, SG Wannabe, f(x), FT Island, 4minute, BEAST, MBLAQ, Supernova, U-Kiss, Secret showed a cool performance.
Translated by: Yeji@soshified.com
Edited by: cedge@soshified.com
Credits to: 한경닷컴 뉴스팀 newsinfo@hankyung.com
Original Article: CLICK