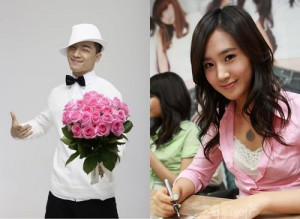 Idol group Big Bang's member Tae Yang revealed the fact that he and Yuri had a blind date.
In the latest recorded SBS "Strong Heart", Big Bang Seungri said "It seemed that Taeyang wants to have a girlfriend. He didn't tell the other members as he went to a SNSD concert alone."
Following that, Taeyang revealed "While I was making my album, I didn't go out and was only focused on my music. I was very tired in which an acquaintance arranged a blind date and said 'She has a good personality so you should try to get closer.'
"I went to the meeting place and met SNSD Yuri. Even following the blind date with Yuri, we exchanged contact information and became closer," surprising everyone nearby.
Taeyang continued "This year Seungri and Yuri are both classmates, becoming closer. After seeing that, I was afraid our relationship would be revealed. If I really was dating Yuri, I wouldn't be able to say this story. Please accept us as good colleagues," he encouraged cutely. The episode will be broadcast this 20th.
[Daily News Star Today Celebrity Team]
Translated by: Yeji@soshified.com
Credits to: 매일경제 스타투데이 연예팀
Original Article: CLICK